Muffler
Publish date:2018-06-26 Views:937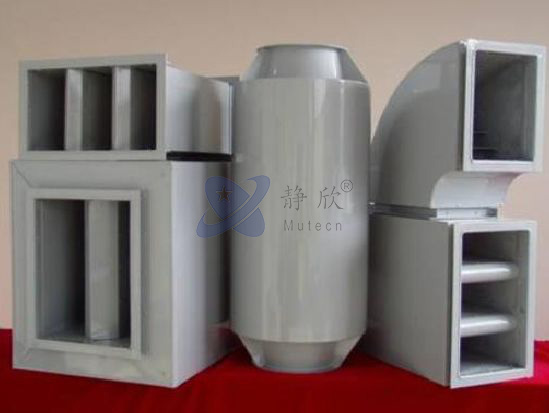 Material Science:
The JP type rectangular muffler shell and orifice plate are made of galvanized steel sheets, and can be made of cold rolled flat plates, stainless steel and aluminum plates according to users' requirements. The flange is made of hot rolled equilateral angle steel and the flange is selected as the matching type. The filling material is made of centrifugal glass wool board, and the filling pressure rate is 5%. Protective material is made of alkali free plain glass cloth, and polyethylene film can be used for special dustproof.
Specifications:
The JP type rectangular muffler is divided into three types, i. e., I, II and III. Each model is suitable for different noise spectrum characteristics. According to the requirements of different flow, three kinds of pressure loss levels of air pressure are designed for each type, according to the requirements of different flow rates. Each type of muffler has 6 basic types of length specifications: 1-500mm, 2-1000mm, 3-1500mm, 4-2000mm, 5-2500mm, 6-3000mm. Each type of muffler has 3 basic types of height specifications: 1-300mm, 2-6000mm, 3-900mm standard high modulus: 100mm, which can be interpolated on the basis of the basic height, with a height range of 300 to 2000mm. The width of each muffler depends on the specific form of the muffler. The width range is 300 to 2500mm.
Characteristic:
● High frequency noise reduction performance in medium and high frequency
● There is a wide range of application and large scope of application.
● Aerodynamic structural optimization design with small airflow loss.
● According to different noise spectrum characteristics and airflow pressure loss requirements, there are many models to choose from.
● Modularized structure design and variety of specifications
● fire retardant and flame retardant performance of A1 grade
Application:
It is suitable for the ventilation and air conditioning systems in industrial and civil buildings, which can be installed in the inlet and outlet of the fan, the gas transmission pipeline and the inlet and outlet, and the airflow speed is limited to less than 20m/s.