The world's first arch closed noise barrier for high-speed railways is about to start
Publish date:2018-06-20 Views:1017
In May 10th, XinHui Railway Station opened the C5503 train of Jiang Zhan high speed rail. After 5 minutes, the train passes through the natural ecological scenic spot "Bird Paradise". "Bird Paradise" is one of the largest natural bird watching parks in the country and inhabits more than 30 thousand herons. According to the railway staff, this is where Ba Jin's article "paradise of birds" depicts. According to the railway staff, after the completion of the Jiangmen south station, the station is only 1.5 kilometers away from the "Bird Paradise".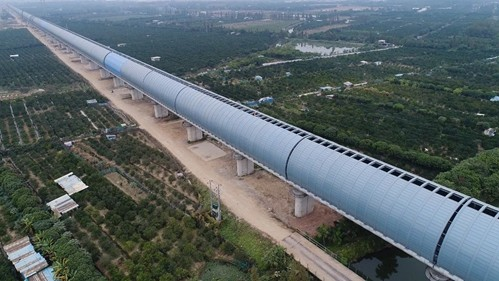 In order to protect the "Bird Paradise" and the surrounding natural ecology, the construction and installation of the world's first arched full enclosed sound barrier, the longest sound barrier at home, increased investment by 180 million yuan. At the same time, in order to avoid the construction of bird breeding period, the four Bureau of China Railway formed a complete complete closed sound barrier design scheme and construction technology, which filled the blank of the research on sound absorption and noise reduction of the aerodynamic effect of the train, and provided a useful exploration for the environment protection of the high speed rail construction and accumulated a successful experience.
In addition, the construction of all stations in this new line fully embodies the regional cultural characteristics of western Guangdong, and highlights the "one station and one scene", especially the design of Jiangmen, Taishan, Kai equal station house, and the comprehensive integration into the cultural elements of the Wuyi hometown.