Sound insulation panel
Publish date:2018-06-25 Views:554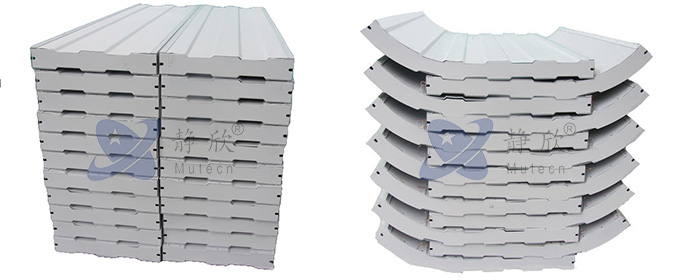 Product introduction:
The thickness of the septum panel is 50-150mm. At the same time, in order to improve the beauty and corrosion resistance of the sound barrier after completion, the surface of the sound insulation barrier surface all do anti-corrosion treatment and spray plastic surface. This structure has high strength, light weight, beautiful shape and sound absorption performance. The 500-4000Hz has good absorption and sound insulation performance in the road traffic noise energy concentration, and the material has low price and self - cost. Light weight, waterproof, high strength, beautiful and durable, simple construction, easy maintenance and so on.
Product features:
1.Sound insulation: the average sound insulation is more than 28dB (A)
2.sound absorption coefficient: the average sound absorption coefficient 0.65-0.90.
3. beauty: you can choose a combination of colors and shapes to coordinate with your surroundings.
4.convenience: parallel installation with other products, easy maintenance and convenient replacement.
5.the economy: assembly construction, improve work efficiency, shorten construction time, can save construction costs.
Scope of use:
It is especially suitable for the noise control of highway, high speed railway, rail traffic, elevated road, living road and other traffic noise, and the noise of factory, workshop, equipment and so on.