Box type sound insulation cover
Publish date:2018-06-21 Views:482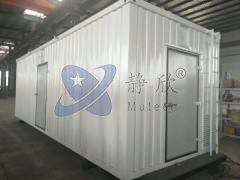 In order to prevent the noise from invading the outside world, the sound insulation room is built in the noisy local environment, the quiet room and room are formed, the external transmission of noise is obstruct effectively, the influence of noise on the outside world is reduced, and the hearing of the staff is protected.
Performance structure:
1.the main structure of the soundproof room is a shockproof frame type, which is assembled by modules and is convenient for installation and disassembly.
2.The main body uses square steel as the skeleton, and the outer panel is made of environmental friendly high quality glass plate, with porous aluminum plate on the inside, high quality sound absorbing cotton, sound insulation material and damping coating, so as to effectively absorb noise and improve the noise reduction effect of low frequency noise.
3.door and window closed joint seal with sealing tape; external joint of sound insulation housing is pressed by aluminum alloy panel, which is beautiful and practical.
4. the sound insulation room is five sides, and the four sides are the feeding surface, the main operation surface, the finished product collection surface and the rear face. Each surface has transparent observation window and operator entering and entering the operation door, so it is convenient to observe the work situation of the punch.
5.the collection surface of the sound insulation room is set up and down, which is made of light material, using motor drive, mechanical transmission and lifting, lifting action chain protection, and setting safety protection device and acousto-optic alarm to ensure the safety of the operator.
6.there is a pneumatic opening window on the top of the soundproof house to facilitate the replacement of the lifting of the mould.
7.indoor exhaust system to match exhaust of high speed punch suction mechanism.
8.the sound proof room lighting uses the explosion-proof and dustproof fluorescent lamp.
9.size and material can be selected according to different sound insulation and environmental needs.
10.it can be designed and manufactured according to the technical requirements of customers and applied to the noise level of high requirement test products.
Application:
It is suitable for reducing the noise of all kinds of blower, fan, generator, air compressor, transformer, pulverizer, ball mill, motor, water pump, woodworking machinery, printing and other equipment. High noise isolation equipment can be used as control room of high noise workshop to reduce the harm of noise to human body. At the same time, it is equipped with ventilation cooling, heat dissipation devices, intake and exhaust mufflers, etc. to ensure the normal operation of the equipment, improve the working environment and meet the requirements of national environmental protection. It is safe, beautiful, economical and practical.